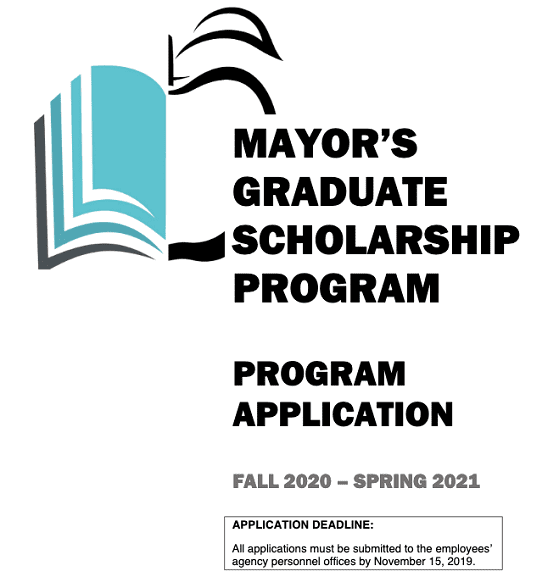 FAQs 2020/2021 Scholarship Year
What is the Mayor's Graduate Scholarship Program (MGSP)?
​​The MGSP provides City government employees the opportunity to continue their education in graduate study. For over 50 years, hundreds of applicants have been awarded scholarships thanks to the generosity of New York City area colleges and universities. Participating schools offer scholarships in areas of business and public administration, policy analysis, law, engineering, nursing, public health, computer science, and other profession specific programs to eligible and qualified applicants.
How do I qualify for the Mayor's Graduate Scholarship Program?
To qualify for MGSP, you must:
a. Be a full-time City government employee b. Be actively employed by the City of New York at the time of application and while pursuing your degree c. Have completed an undergraduate degree by the fall 2020 semester.
What are the general requirements for an MGSP award?
General requirements may vary depending on the institution and program. Some schools require that an applicant be a new entrant and fully matriculated to the school starting in the fall of the scholarship year. Taking classes in the spring would disqualify you for consideration of an award, unless stated otherwise. Other criteria may include a minimum GPA, entrance exams such as LSAT or GRE, and strong letters of recommendation. Check the MGSP Scholarship Offering Guide for more details.
What do the graduate schools look for in prospective award winners?
Schools award only a limited number of scholarships to eligible candidates. Generally, they look for neat and professionally prepared materials. Essays must be grammatically correct, well written, and persuasive. Candidates are expected to adhere to all instructions and requirements stated in the MGSP Scholarship Offering Guide​.
Do I recieve an award if I meet the basic requirements?
Since all scholarships are competitive, meeting the basic requirements is not a guarantee of an award​​.
Sample Letter Of Intent
Attached here is the Sample Letter Of Intent​, this is needed for your application please print and fill out this form click here.
To see more FAQs please click here.
Final MSGP Application
Your completed MGSP application package must include the following materials for EACH school:
An original

TYPED

application including cover page (print a black and white legible complete form).
Copy of the Letter of Intent to the school indicating that you are applying for a scholarship (see sample on website).
Copy of enrollment letter from school that allows current students to apply for scholarship (check Scholarship Offering Guide).
Copy of the confirmation of school application submission. (due by the deadlines indicated in the Scholarship Offering Guide).
Copy of undergraduate/graduate degree or unofficial transcript. 6. Three separate essays (attach originals for each school).
Three separate essays (attach originals for each school).
To learn more about the Final MSGP Application click here.