Service Learning with GLOBE NY Metro and the Wallerstein Collaborative for Urban Env. Education
Planting Milkweed for Monarchs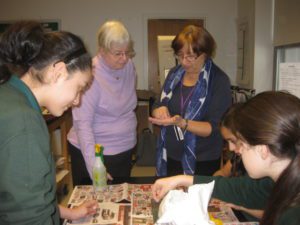 Laura Pagano's service learning project grew out of a conversation she had during an "Into the Woods" workshop. Teachers were discussing Monarch butterflies and their reliance on milkweed—certainly a Monarch's favorite plant. They lay their eggs exclusively on milkweed plants and their newly hatched larvae (caterpillars) rely on the plant as their sole food source. Given their importance to the life of every monarch, and their survival as a species, Laura and her class planted milkweed as a service learning project to help these beautiful and mysterious creatures.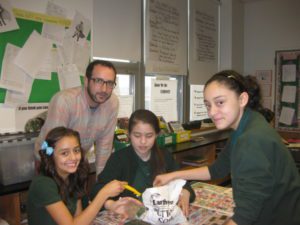 Ms. Pagano's science cluster class decided to try their hand at propagating milkweed plants in their classroom. To do this, students researched different ways ​to germinate milkweed. Milkweed is not the easiest plant to grow from seed because ​it relies on a process called cold stratification. In nature, milkweed seeds are dispersed on the wind and then use the winter freeze and thaw cycle to anchor themselves by breaking ​down into the soil just enough to germinate. Students experimented with three planting methods: 1) sowing seeds directly on the ground in winter, 2) sowing seeds in outdoor pots in winter, and 3) refrigerating the seeds first for several weeks before outdoor planting. The jury is still out on which methodology works the best. The NYU Wallerstein Collaborative for Urban Environmental Education came to help with the planting. Ms. Pagano now offers milkweed seedlings free of charge to other teachers who would like to grow milkweed!
Service Learning with GLOBE NY Metro
​The Metropolitan Monarch Alliance works in partnership with GLOBE NY Metro and the Wallerstein Collaborative for Urban Environmental Education to promote service-learning in schools around NYC. The cornerstone of these two organizations are teacher professional development programs that enhance environmental literacy and hands-on, inquiry-based, project focused pedagogy to supervise place-based student learning activities, research, and service-learning in their schools and communities. 
For more information about different teacher programs and service learning, see GLOBE NY Metro's website and the Wallerstein Collaborative for Urban Environmental Education's website​. 
A Garden Grows in Brooklyn – From Recycled Soda Bottles​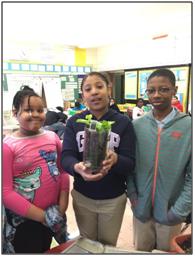 Ms. Small's 5th grade class at PS 272K created a garden in their classroom—​planted in recycled soda bottles! The class collected used plastic soda bottles and repurposed them into what became a lovely container garden. Aside from gardening, students learned about plastic waste and recycling. With help from the NYU Wallerstein Collaborative for Urban Environmental Education staff, Ms. Small and her students fashioned the bottles into self-watering containers and filled plastic bottles with live mixed greens and herbs. The students planted rosemary, mint, and cilantro from seed, and Ms. Small reports that they are thriving! The students also planted a large crop of mesclun (lettuce) and they experimented with a mix of seeds and seedlings. The students were fully responsible for tending to their plants and keeping them healthy. Ms. Small plans to harvest the class crop with her students and invite their parents to enjoy homegrown salads with the class. Students gained the knowledge and satisfaction that stems from growing a garden.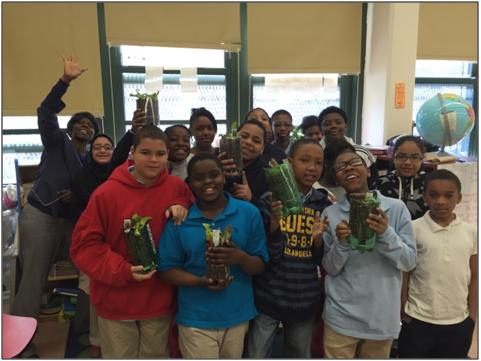 Cassandra Laugen's 4th Grade Class Project
Ms. Cassandra Laugen did not have to look far to find a great service learning project for her students. Her school, P.S. 205 in Bayside Queens, already had a school courtyard with an over-grown garden and greenhouse, although it had fallen into disrepair. Ms. Laugen set out to develop the greenhouse, or "high tunnel," into a productive garden complete with compost bins. Upon request, educators from NYU's Wallerstein Collaborative for Urban Environmental Education met with Ms. Laugen to layout a garden plan and to work with her students to begin planting.
It was a warm April day when NYU staff and Ms. Laugen's 4th graders ventured out of the classroom and into the garden. The first step required weeding, cleaning, and preparing the garden beds which were out of order. Students worked in groups on the different planting beds. They learned about invasive plants and aromatic plants as they pulled them out. Each group of students added fresh soil and planted tomatoes, basil, peas, and more. Ms. Laugen and parents helped maintain the garden over summer. As a result, there was an excellent harvest of free, healthy, tomatoes, peas, and herbs for the school community.
A follow-up garden day was held the following October to plant winter crops as an experiment to determine whether the high tunnel could support a winter growing season. Students investigated the difference in air temperature inside and outside the high tunnel and found no difference. Students investigated the growing requirements of various crops and chose to plant​ radishes, turnips, carrots, beans, and parsley. Compost from the previous spring, made from the cafeteria's organic waste, was mixed into the garden beds to fertilize the crops. Gardens require constant maintenance throughout the year. To do this, Ms. Laugen receives support from parents, the administration, and custodial staff. The grown-over courtyard and high tunnel at PS 205 is growing once again. Ms. Laugen's gardening has already paid multiple dividends—in learning and fresh local produce!