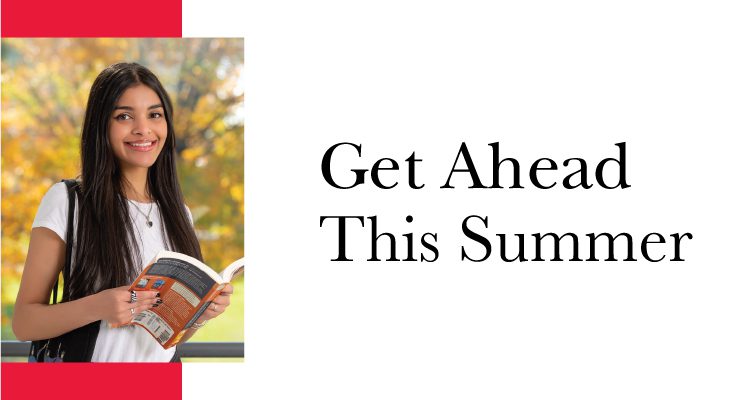 What and When is Summer Session?
The Summer Session is a condensed summer schedule for students to catch up or get ahead of their studies during the summer months. It's a great way to earn up to 15 credits in as little as 2 months. Choose from hundreds of courses, which will be offered in three formats: in person, hybrid, and online. 
Summer Session 2023
| wdt_ID | Session​ | Schedule | Credits | Last day to register​ | Visiting Student Application Deadline |
| --- | --- | --- | --- | --- | --- |
Office Information
Mon-Thurs 9:00am – 4:30pm
For Financial Aid or Registrar information, please click here for QCHub
Registration for Summer Session begins October 31st. 
How do I apply to Summer Session?
Who is eligible for Summer Session?
Queens College Students
All current QC students are eligible to enroll in Summer Session.
Transfer students who have been admitted and paid the $100 deposit.
Graduating high school students who have been admitted and paid the $100 deposit may take courses during Summer Session 2 (Summer 4W2 and 6W2).
Visiting Students
All students who are new and have not previously matriculated to Queens College are encouraged to apply.
How do I access CUNYfirst to register for my classes?
What are the vaccination requirements to attend Summer Session?
Effective May 23, 2023, COVID vaccine and testing requirements have been lifted.
Additionally, Queens College will no longer utilize the Cleared4 health verification system. 

What is QC's mask policy?
Masks are not required at this time, but QC supports a mask-friendly environment. With new variants circulating, QC encourages everyone to continue voluntarily using face masks, especially indoors.  Read more about QC's mask policy.
How will I enter the campus?
QC

 

students

 

will access campus with their QCard, as they did during previous semesters.
ePermit

 

students

must present their home CUNY college ID.
Visiting

 

students

must present a state-issued ID when entering campus.  
How many credits can I take during the Summer Session?
You can take up to 15 credits during any combination of summer sessions per academic year:
4W1 = up to 6 credits
4W2 = up to 6 credits
6W2 = up to 9 credits
10W = up to 6 credits
What if my home school requests a syllabus?
If your home school requires a syllabus to be submitted for review, please contact the appropriate academic department​.
How do I see what courses Queens College is offering this summer?
How much will it cost to take a Summer Session course?
Tuition varies depending on what type of student you are. Visit the Bursar's Page for detailed information.
A nonrefundable application fee of $65 for undergraduate and $125 for graduate students is charged.
How do I pay for the Summer Session?
It is strongly suggested that you pay your bill online, through the CUNYfirst self-service center. Credit cards (MasterCard, American Express, Visa, and Discover) can only be used for payment plan payments. For more information, please visit the Bursar's FAQ page. 
Payment by electronic fund transfer (echeck) is available with no charge to the student. 
If you plan to pay by check, please contact qc.burs.communication@qc.cuny.edu ​for instructions.
If you are a financial aid student, you need to pay the difference between the anticipated aid appearing on your account and your tuition and fee bill. If the anticipated aid appearing on your account is covering your entire bill, no payment is due.
For more information, visit the Bursar's page on Payment of Tuition.
What if I decide to drop a Summer Session course?
When will I receive my grade?
Grades will be available shortly after the session ends on CUNYfirst​.    

Students who receive incomplete grades will have until the end of the fall term to resolve them.
Summer Parking on Campus for All Students
Parking on campus is free for summer session students with a valid parking decal, which can be picked up from the Public Safety Office in Jefferson Hall, Room 201 from Monday through Thursday, 9 am to 2 pm, starting on Monday, June 6.
You must submit an application online before picking up a decal. 
You must have a valid permit to park on campus or you will risk being ticketed, booted, or towed at your expense. 
What do I need to do to be eligible for a KITH x QC gift?
Students who are enrolled in one of the four summer sessions are automatically eligible to receive one T-shirt from the KITH x QC collection. No additional action is required.
Recipients will be selected at random and only one student will be selected from each of the four summer sessions. 

Students are eligible to receive one gift only regardless of the number of sessions in which they are enrolled.
Students must remain enrolled in a summer session course for the entire semester.