Degree Requirements
As one of the senior liberal arts and colleges at CUNY, Queens College offers a rich curriculum in the Schools of Arts and Humanities, Social Sciences, Mathematics and Natural Science, and Education. All students at Queens College must complete general education requirements and a major area of study. General education gives students the opportunity to study a broad range and variety of subjects, while the major offers students the chance to explore a particular discipline in depth.
​
To obtain a bachelor's degree from Queens College, you must complete the following requirements. It is suggested that you meet with an academic advisor at least once a semester to discuss your understanding of the requirements and your academic progress toward graduation.
Are you Pathways, Perspectives, or LASAR?
If you matriculated at Queens College prior to Fall 2013, you may complete the General Education requirements that were in effect when you first enrolled, or opt-in to the Pathways framework instead. See an academic advisor in Kiely 217 to discuss which curriculum is a better fit for you.
| | |
| --- | --- |
| ​QC Core (Pathways) | ​Matriculated to QC as of Fall 2013​ |
| ​Perspectives | ​​Matriculated to QC between Fall 2009 – Spring 2013 |
| LASAR | Matriculated to QC between Fall 1981 and Spring 2009 |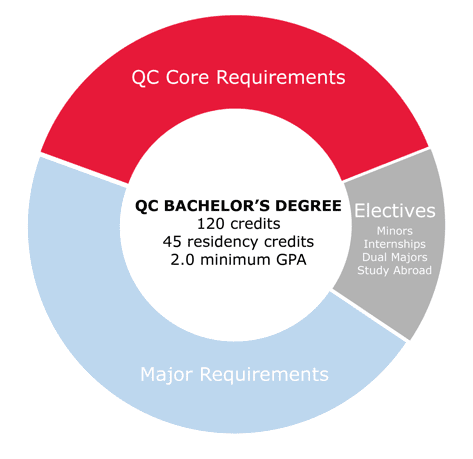 QC Core Requirements (Pathways)
Effective Fall 2013, entering freshmen and transfer students follow a liberal arts curriculum that fits the framework of the CUNY Pathways Initiative. The Pathways framework is common to all CUNY colleges. This guarantees that General Education requirements fulfilled at one CUNY college will carry over seamlessly if you transfer to another.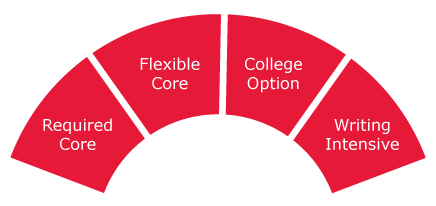 The QC Core consists of 14 courses, a minimum of 42 credits, and contains three parts: the Required Core, Flexible Core, and College Option. Courses cannot fulfill more than one Core requirement. You will also be required to complete two writing-intensive courses.
Required Core (4 Courses)
Please note: Students with an AA or AS degree are exempt from the Required Core.
| | |
| --- | --- |
| ​Composition l (EC l) | ​English 110 |
| ​Composition ll (EC ll) | ​1 Course (English 110 Prerequisite) |
| ​Mathematical and Quantitative Reasoning (MQR) | ​1 Course |
| ​Life and Physical Sciences (LPS) | |
Flexible Core (6 Courses)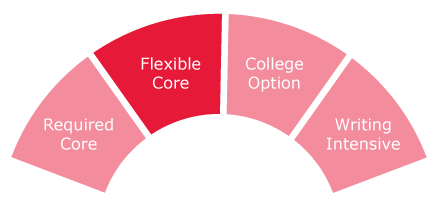 No more than two courses in any discipline (department) or interdisciplinary field.
Please note: Students with an AA or AS degree are exempt from the Flexible Core.
| | |
| --- | --- |
| ​World Cultures and Global Issues (WCGI) | ​1 Course |
| ​US Experience in its Diversity (USED) | ​1 Course |
| ​Creative Expression (CE) | ​1 Course |
| ​Individual and Society (IS) | ​1 Course |
| ​Scientific World (SW) | ​1 Course |
| ​An Additional Flexible Core Course | ​1 Course |
College Option (4 Courses)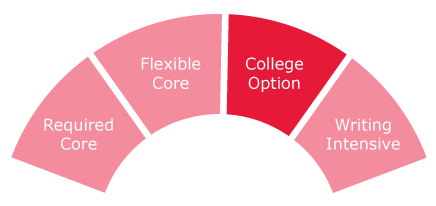 | | |
| --- | --- |
| Literature | ​1 Course (English 110 Prerequisite) |
| ​Language | ​1 Course (Departmental Placement Required) |
| ​Science | ​1 Course |
| ​An additional College Option | ​1 Course (Chosen from LPS, Flexible Core, College Option, or Synthesis Course) |
Transfer Students
For transfer students, the number of courses required to complete the College Option depends on several factors. Use the flow charts below to help you identify how many College Option courses you have to fulfill. please be aware that these courses must be completed in QC residency.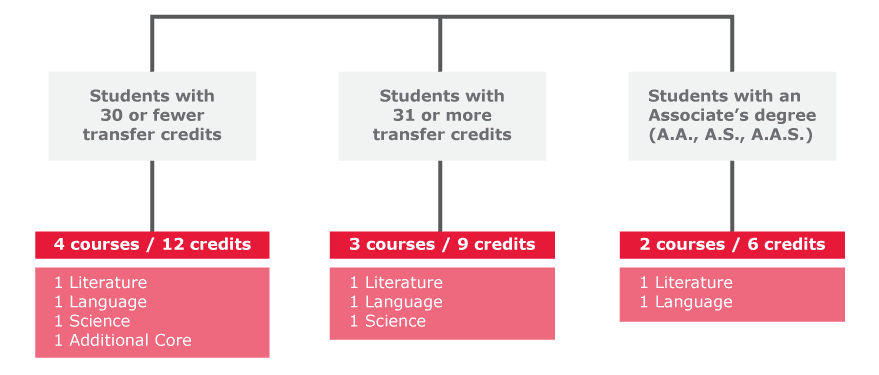 Multiple-Transfer Students
Students who began at a 4-year baccalaureate program are required to complete 12 Queens College Option credits. Only College Option courses taken in a CUNY baccalaureate program will count towards the QC College Option requirement at QC.
Students who began at a 2-year associate program may have to complete 6, 9, or 12 QC College Option credits.
Writing-Intensive Requirement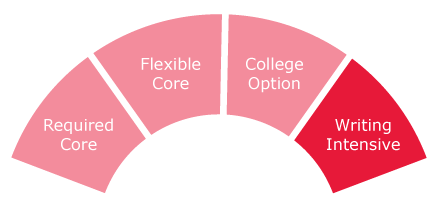 Students must also complete two Writing-Intensive "W" courses. At least one "W" must be completed in QC Residency. English 110 is a prerequisite for all "W" courses. Writing Intensive courses may overlap with courses taken from Pathways or Major requirements. To avoid the need to take extra courses, you should plan your course of study at Queens College in a way that maximizes this overlap.
Students who hold a baccalaureate degree from an accredited and recognized institution will be deemed to have automatically fulfilled the Required Core, Flexible Core, College Option, as well as the Writing-Intensive requirement.
If you matriculated to QC prior to fall 2013 please meet with an academic advisor to discuss your General Education requirements.
Major Requirements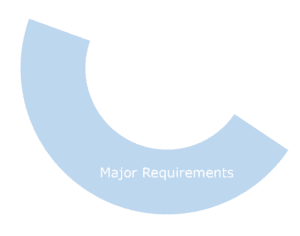 ​A major program of study, or major, is a concentration of courses in a particular subject area. Completing at least one major is required for a Queens College bachelor's degree and it is one of the most important decisions in your life. If you need assistance with major exploration, we encourage you to make an appointment with an academic advisor in Kiely 217 or a career counselor in Frese 213. If you're already declared into a major, or know your intended major, please make sure you visit your academic department, download the Undergraduate Bulletin for major requirements, and view your academic path to your four gradations using the Academic Program Maps.
Each major is completely different. All majors vary in the number of credits required. In fact, the number of credits in a major can range from as many as 92 credits to as little as 30 credits.
It is strongly advised that you declare your major ideally before, but no later than, the end of your sophomore year, which is around completion of your 60th credit. Often, students must complete prerequisite courses before taking more specialized courses in the major.
Keep in mind that Business Administration, Dietetics, Neuroscience, Communication Sciences and Disorders (aka Speech Pathology), Music, BFA-Studio Arts, Design, Elementary/Childhood Education, and Secondary Education require an application or have special declaration requirements. Please see a department representative for further information and proper procedures.
General Electives, Minor(s), Additional Major(s), Study Abroad, and Internships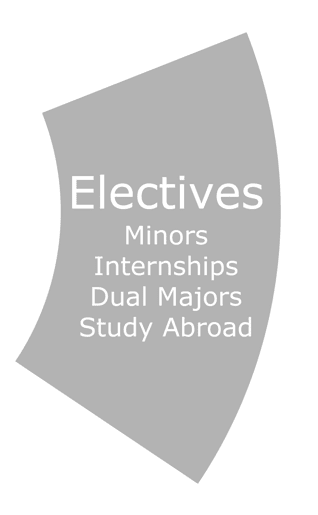 In order to graduate you must complete at least 120 credits. Even if you have completed all of our QC Core and Major requirements, you may need to take additional classes to reach 120 credits.
General Electives
Courses that help a student reach 120 credits but do not fit into any other category are called general electives. Just about any course can be considered an elective. Students may also complete Study Abroad​ courses and Internships for their electives.
Minor(s)
Queens College offers numerous minors. While a minor is not required for graduation, it can be an option for students who need to fulfill additional credits to reach 120. To view the list of minors that are available at Queens College, please search through Undergraduate Degree Programs or download the Undergraduate Bulletin.
Dual Major(s)
Every student must complete at least one major to graduate. But students who need additional credits to reach 120 can declare another major. You must fulfill all of the requirements that go along with any additional majors. This can add up to an abundance of credits–often more than 120. Consult an academic advisor to help you determine if this is the right choice for you.​​