AAC Peer Ambassadors are fellow Queens College students. AAC Peers provide individual support to new undergraduate students transitioning into Queens College. AAC Peers provide in-person and virtual office hours, and workshops to aid in new students' journey to thrive academically and socially during their first year at Queens College.
Office Hours
Drop-In at Kiely 209 or Schedule a Virtual Session!

During your office hours Peer Ambassadors can help answer questions regarding departments/offices or tutoring services, assist with signing up for e-accounts such as CAMS and qmail, and explain sites such as Degreeworks, CUNYFIRST, Schedule Builder QC Navigate, and more! Schedule a Virtual Session HERE!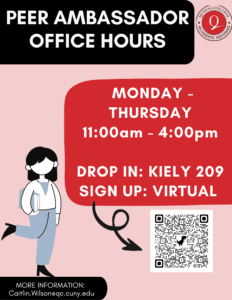 Workshops
Interactive, 30 – 45-minute virtual workshops are led by Peer Ambassadors who share their valuable knowledge on resources, and opportunities at our campus! Workshops provide a comfortable place for students to help fellow students learn a new skill and network with various departments. Have additional questions or want to talk one on one with a Peer? Make sure to stick around for our individual breakout room Q&A that always takes place at the end of the workshops.
Peers will cover topics such as: Know B4 U Go – Making sure all new students understand all the steps needed to be completed prior to the start of the semester; Registration Prep –Understanding Schedule Builder, CUNYFIRST, & Degreeworks; and more
Stay Tuned!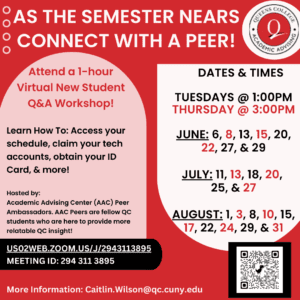 Meet Our Peer Ambassadors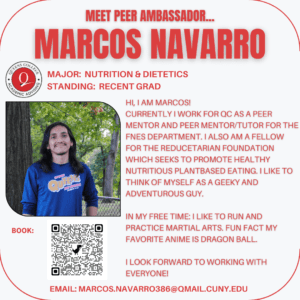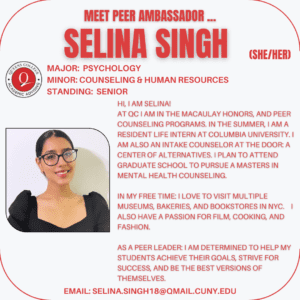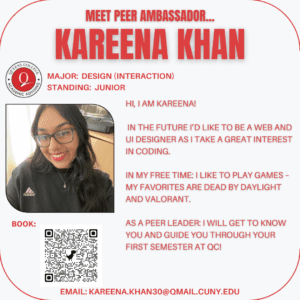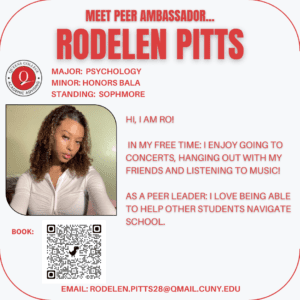 Peer Coordinator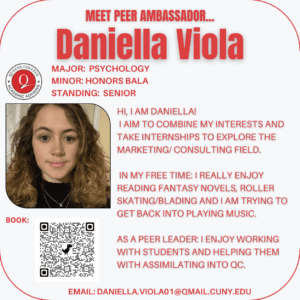 Overview of Program
Housed within the Academic Advising Center (AAC), Peer Ambassador offers support to eligible new first-year students involved in the QC in 4 program and undeclared transfer students.
This Peer-to-Peer holistic support model identifies frequent challenges new students face and provides quick, relatable strategies to overcome them. Peer-to-Peer support models have been shown to significantly impact student academic progress and sense of belonging.
Through a growing partnership with College Access: Research & Action (CARA) College Allies, Peer Ambassadors receive 75+ hours of training to successfully support students in addition to gain positive academic and professional experiences. Ambassadors learn to provide new students with relatable, and vital insight on how they can acclimate into QC, achieve their academic and personal goals, and prepare for future careers.
All services are free for assigned Queens College students.
Office Information
Program Coordinator: Caitlin Wilson
Office: Kiely Hall, Room 209
Phone: 718.570.0485
Email: Caitlin.Wilson@qc.cuny.edu
Hours of Operation
Monday – Thursday
10:00 am – 4:00 pm
Drop in KY 209 or Schedule a Virtual Session
Quick Links