DegreeWorks is an online advising tool designed to help students and advisors review an individual's progress toward a Queens College degree.
You can access DegreeWorks by logging into your CUNYfirst Student Center and clicking DegreeWorks – Online Advisement located on the right of the page.
Please note: Internet Explorer is the preferred web browser for DegreeWorks.
Once you select DegreeWorks, your main page should look like the following: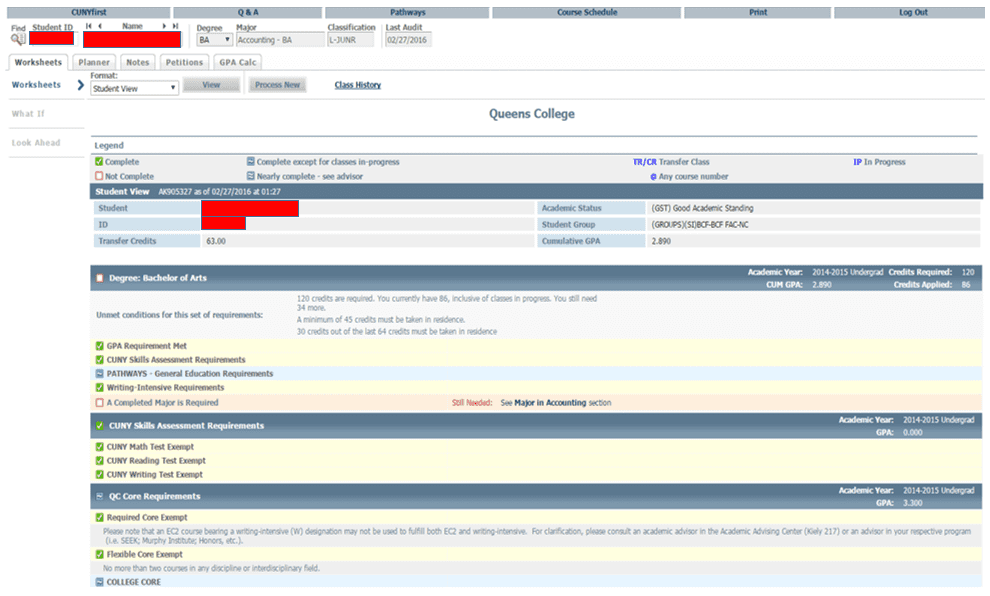 While on the main page, make sure you thoroughly review the information that is listed. DegreeWorks is extremely useful for organizing transcript information in a way that allows you to see what has been completed, what is still missing, and what is in progress for your General Education and major requirements.
If you see discrepancies compared to the information you received during your last advising session, consult an academic advisor in Kiely 217 or in your major department. In addition, you can report a DegreeWorks issue by clicking here. ​​​​​​​​​​​ DegreeWorks is not always 100 percent accurate, and is by no means a substitute for meeting with an academic advisor.
Please note: Before submitting a DegreeWorks issue, you should clear your cache using Internet Explorer as your web browser.
What If
Interested in exploring a major or minor before declaring it? Did you matriculate to Queens College prior to Fall 2013 and want to review missing General Education requirements if you opt in to Pathways? The What If function can assist you in planning ahead. Remember, this should not replace meeting with an academic advisor.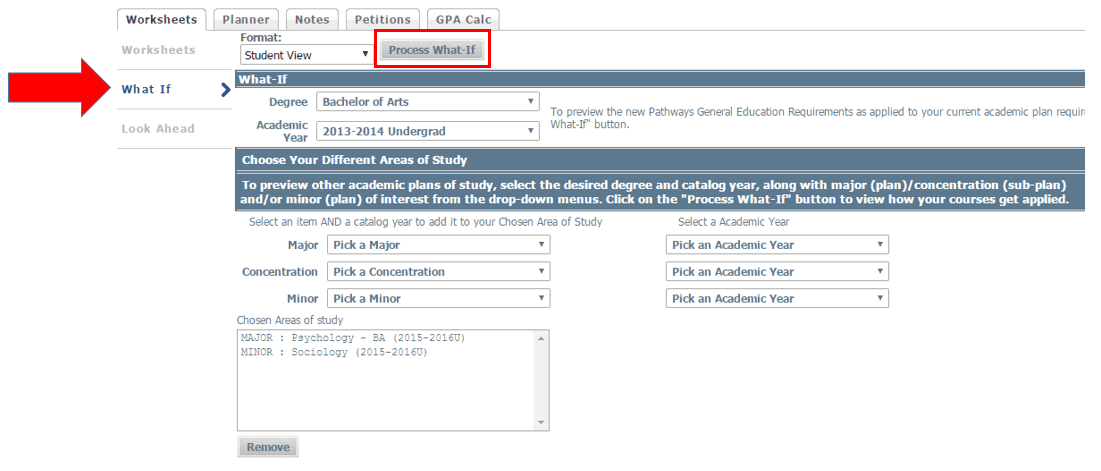 While in the What If function, you can select the degree you are considering (BA, BS, BFA, etc.), academic year (Fall 2013 or after for Pathways), and major and/or minor. If you choose a major that offers a concentration, select that as well. When selecting a major/minor, please make sure you select the academic year in which you matriculated at Queens College. Click "Process What If" to review the requirements for the new program(s) to see how this will affect your future semesters. You should discuss your new plan with an academic advisor.
Please note: What If audits are not saved in DegreeWorks, and the function doesn't officially declare and/or change your major.
Look Ahead
Are you trying to get an early start on planning courses for your next semester, but are unsure of how they will affect your degree requirements? Use the Look Ahead function.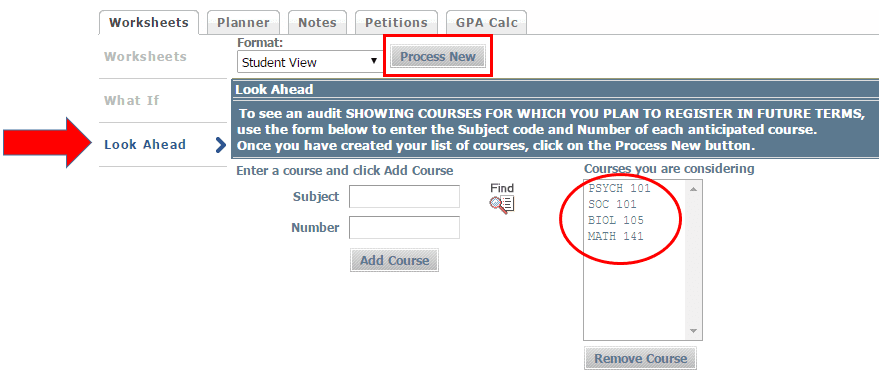 While in the Look Ahead function, insert the discipline of the course you are planning to register for in the Subject field (PSYCH, SOC BIOL MATH, etc.), and the course number in the Number field (101, 105, 141, etc.). Click "Add Course." To remove an added course, select it from the "Courses you are Considering" box and then click "Remove Course." Once you have added all the courses you would like to review, click "Process New."
For more information and FAQ about DegreeWorks, please click here. ​​​​​​​​​​​​